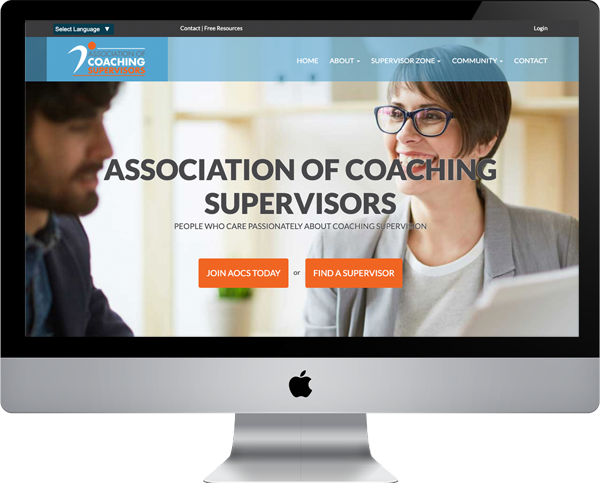 What do you get?
A brand new, professionally designed website, or complete refresh of your existing one, with 10 pages of content added on your behalf
Unlimited pages can be added via our CMS which allows you to add and edit your own pages. You can edit in your pages in a WYSIWYG or HTML editor, up to you. Any components we develop for you are able to be embeded straight into your pages.
Two included custom CMS models, Testimonials and Events. With these you can add customer testimonials and your events calendar to your website straight out of the box. We can model any part of your business inside the CMS, a couple of examples we've built for clients include application and membership forms and website users with their own searchable profiles. The possibilities are endless and they're all created just for your business, not awkwardly crowbarred into an off-the-shelf package.
Domain name configuration
15 minutes of website edits and updates each month
One premium email account, unlimited alias addresses
SSL certificate
Three-yearly website redesign included
Security updates and technology upgrades
A dedicated contact person who handles all aspects of your website, related queries and our ongoing relationship.
How much does it cost?
A pay monthly website running on our CMS costs £99 + VAT per month. The CMS can handle any kind of custom extension you can think of, we'll need to write that code though as we don't use off-the-shelve packages, so there will be an extra cost for things like that.
What happens if I want to go ahead?
You'll make the first month's payment after agreeing to our website as a service terms.
We'll gather the content for the website from you and run through the types of designs you like.
We'll look into the market the website operates in and look for SEO opportunities.
We'll build the site on our development servers so you can sign it off once it's finished.
We'll configure the domain and email ready for launch and transfer the site into our UK cloud hosting environment.
The website goes live.
What content management system is it based on?
It's our own CMS called Mill, it's built on Laravel and is highly optimised to get pages to users quickly. It doesn't carry lots of excess code that isn't needed, it has one job to do and it does it quickly. Don't take our word for it, below is Google's page speed analysis of this page (this site is built on Mill).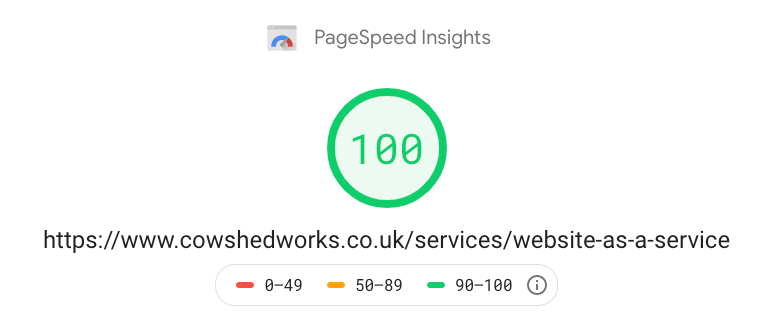 What if I want to use Wordpress instead?
If you want your website built on Wordpress we can do that too. We'll happily build the site and host it on our hosting platform.
What does 'Website as a Service' mean'
Ordinarily, you'd need to set aside significant time and capital investment to have a suitable website built, hosted, maintained and protected for you. The Cowshed Works Platform is a one-stop solution which takes care of all aspects of your website's build, hosting and maintenance, alongside a whole host of other benefits. Coupled with our broad, in-depth industry and technical knowledge, we believe our service is unrivalled, as a high-quality, end-to-end website build and management service.
Software as a Service (SaaS) is the generic term applied when software, that is owned, delivered and managed by third party providers, is used. We've adopted the Website as a Service (WaaS) term to describe the nature of our Platform; we retain ownership of the software on which the Platform is delivered e.g. the CMS, Server Infrastructure and Helpdesk, and manage and deliver it to our clients on a subscription basis. You retain ownership of your website's content, design and output.
This model is tried and tested in the software industry, and in very similar forms, in more traditional areas such as car leasing. It's a widespread, efficient way in which businesses acquire use of the assets they need to operate successfully. We're just extending this proven concept to cover your website infrastructure too. This means that you get a fantastic, efficient, high-end website solution, at a competitive monthly price from £99 + VAT per month.
We believe that leasing through The Cowshed Works Platform is the perfect solution for SME business websites; we're your outsourced web department!
The business case
Because it's done on a WaaS basis, you pay a simple, fixed monthly fee. This benefits your cash-flow, doesn't require upfront capital and allows for much more transparent tax treatment.
There are no banks or finance houses involved, and no credit checks to complete
We have invested heavily in creating our own, in-house, highly secure, efficient CMS. You are therefore able to benefit from this quality CMS which, if developed for an individual site, would be prohibitively expensive for many.
There is no obsolescence risk; your website, it's design, and the underlying technology supporting it will be completely refreshed every 3 years as part of your package, at no additional cost. This ensures you constantly portray a current, best practice image to your customers and stakeholders.
You sign up to a minimum 12 month contract, but after that have the right to cancel the service agreement, with no termination or cancellation fees.